Smart City Expo World Congress (SCEWC), the event for smart cities and urban smart solutions organized by Fira de Barcelona, ​​further strengthens its position as the leading international event on its 2017 edition bringing together a record 700 cities from around the world. The SCEWC, which will take place from November 14 to 16 at the Gran Via venue, will have the participation of major capitals such as Amsterdam, Athens, Atlanta, Brussels, Chicago, Copenhagen, Stockholm, Geneva, New York, Rome, London or Yokohama that will analyze citizen empowerment as a key to the development of cities and the future world.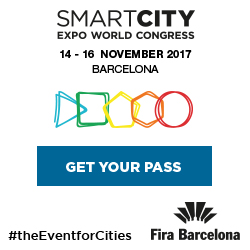 In this edition and under the theme 'Empower Cities, Empower People', the trade show and congress will host 675 exhibitors and more than 400 speakers. Among the attending delegations feature a total of 57 cities, countries and territories with a stand, including Denmark, Dubai, Sweden, Germany, Finland, Holland, Israel, Norway, Spain, the United States, Bavaria or Flanders and metropolises such as Berlin, Brussels, Lyon or Moscow.
Among the participating cities are Antwerp, Aurangabad, Berlin, Barcelona, ​​Florence, Kobe, Kinshasa, Manchester, Shanghai, St. Petersburg, Wellington, Tel Aviv or the Palestinian Hebron, which take part for the first time, as well as many municipal government representations from the five continents that will showcase their latest innovations and projects aiming to make their cities more livable.
In this sense, several of the cities that take part in SCEWC are among the ten leading cities in disruptive innovation in 2017, according to the 'The Global Cities Index' report from A.T. Kearney. New York heads this ranking, followed by London and Paris. Barcelona stands in position 24 exceeding the initial expectations of A.T. Kearney, who estimated the Catalan capital to occupy the 37th place. Business activity, human capital or cultural experience are some of the parameters used to develop this classification. The director of SCEWC, Ugo Valenti, said that "in 2017 we will not only see more cities than ever, but we will have the most influential and innovative world capitals in the world that turn to the leading exhibition as an essential meeting place for the cities of the 21st century."
Since its first edition in 2011 and with a constant growth in the number of cities, speakers and participating companies, SCEWC has become the world benchmark event. Thus, in this year's edition, among the 675 exhibiting companies are Deutsche Telekom, Engie, Huawei, Mastercard, Microsoft, Siemens, Suez and ZTE, to name a few.
The international impact of the event has also grown with editions in Casablanca (Morocco), Istanbul (Turkey), Kyoto (Japan), Puebla (Mexico) and Buenos Aires (Argentina) further consolidating Smart City Expo World Congress' international leadership in the urban solutions and smart cities field attracting more attendees to the world event in Barcelona.