The Tokyo Fire Department, Tokyo Big Sight Inc., and Tokyo International Fire and Safety Exhibition 2018 Executive Committee are pleased to announce the Tokyo International Fire and Safety Exhibition 2018, scheduled to run for four days from May 31 (Thu.) to June 3 (Sun.) 2018 at Tokyo Big Sight (East Halls 5, 6 & 7, and the Outdoor Exhibition Area), showcasing a collection of cutting-edge firefighting and disaster prevention products and information.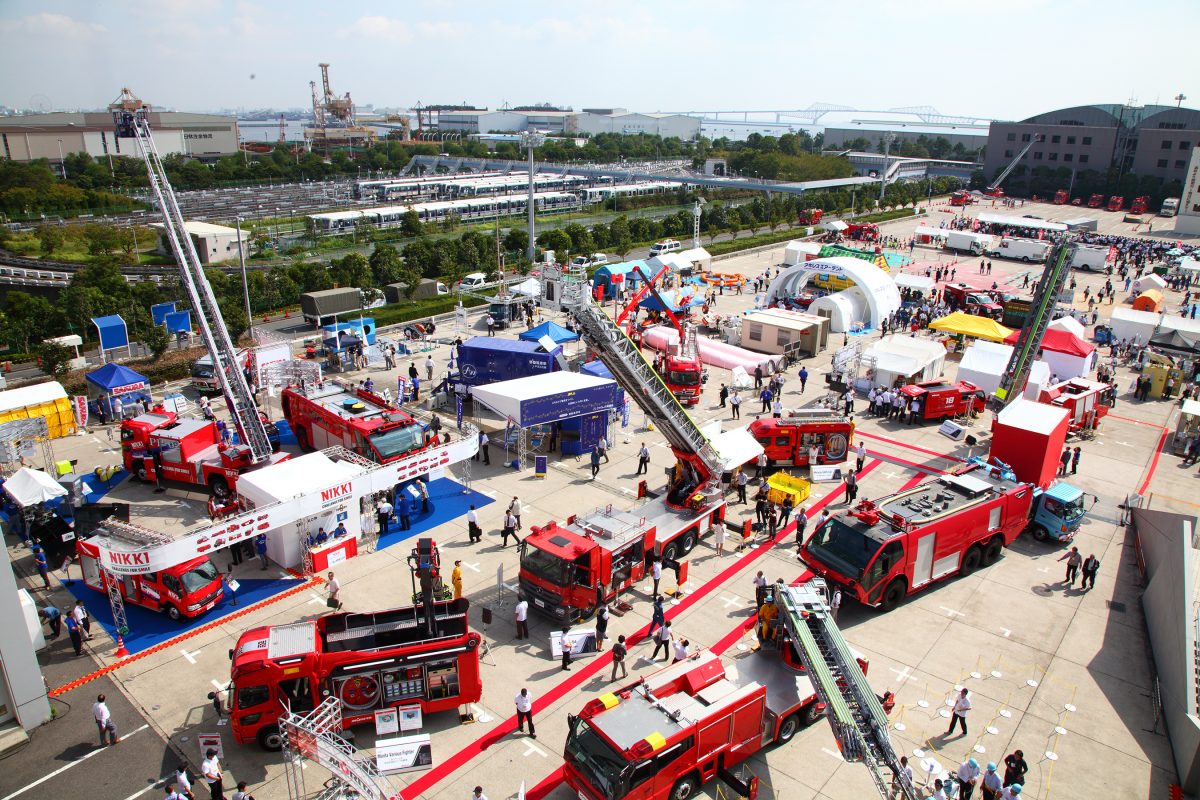 The Tokyo International Fire and Safety Exhibition 2018 is Japan's largest firefighting and disaster prevention exhibition. In addition to sharing information on disaster risk based on lessons learned from past disasters and improving disaster-preparedness awareness and the ability to act among citizens of Tokyo, we aim to encourage strengthened cooperation among citizens, corporations, and the government, as well as promoting related technologies and industries – along with showcasing a collection of the latest services and products related to firefighting and disaster prevention in and outside Japan. At the last exhibition, 267 companies from both inside Japan and around the world participated, and there were over 50,000 registered visitors. This marks the tenth time the exhibition has been held, and it is the largest in its history with nearly 300 participating companies, 1,635 booths (as of the end of March), and more visitors expected than last time.
The main exhibits in East Halls 5, 6, and 7 consist of four zones: "Fire Extinguishing, Emergency, Rescue, Evacuation and Guidance", "Disaster Countermeasures", "Information Systems and Communication Services", and "Other Products and Services Related to Fire Safety and Accident Prevention", and two special zones: "Disaster Prevention and Natural Disaster Reduction Countermeasures ICT" and "Disaster Storage", divided into the business area and Tokyo Fire Department area which introduce the latest techniques and products for fire and disaster safety. Also, the Eastern Outdoor Exhibition Area features exhibits by various businesses that have large equipment on display, joint fire extinguishing practice sessions with the Tokyo Fire Department and Emergency Fire Response Team, and a corner where children can enjoy learning about disaster prevention. This exhibition is not just for those involved in firefighting and disaster prevention but also provides opportunities for the general public to learn a wide range of techniques to stay safe during disasters.