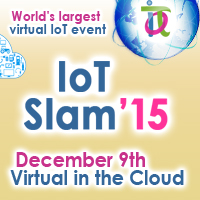 IoT Slam is the world's first and largest virtual IoT conference and exhibition, covering Standards, Interoperability, Open Source, Integration, Security, Infrastructure, Business Models, Research, Innovation, Best Practices, Technology, Industry Implementation and Regulatory Compliance, in the world of IoT. The inaugural online conference will take place December 9th 2015.
According to leading experts and industry analysts, the broader IoT industry is driving the movement towards an "augmented reality" which is set to gain significant momentum over the next 12 months, and by 2020 more than 50 billion "things" will connect to the internet.
IoT Slam gives industry leaders and professionals key insights into published research, unique and evolving ideas and IoT best practices, as well as an opportunity to network with leading experts in IoT. It is also an ideal opportunity for corporate leaders to acquire information on the latest innovations in IoT, generate new opportunities, exchange cutting edge thought leadership, and develop ideas on how to capitalize on what is estimated to be a market worth nearly 2 Trillion Dollars.
Early Bird offer runs until September 25th, via – https://www.eventbrite.co.uk/e/iot-slam-2015-tickets-18481710293
Twitter account and hashtag @IoTChannel #IoTSlam