This will be the world's largest privately-owned woolly mammoth skeleton on sale and the public can have the privilege of getting a good look at this 15,000-year-old skeleton extinct giant from the Ice Age before the auction on December 16 at 14:30 by Aguttes inside Gare de Lyon-Brotteaux. Aguttes has auctioned such fine masterpieces previously, as seen by the sale of an exceptional dinosaur skeleton for EUR 1,128,000 in Lyon on December 10, 2016.
This gigantic woolly mammoth skeleton measures 3.4 meters high, with a total span of 5.3 meters and weighing just over of 1400kg. It is mounted in walking position, making it an ideal centerpiece in a large room or hall.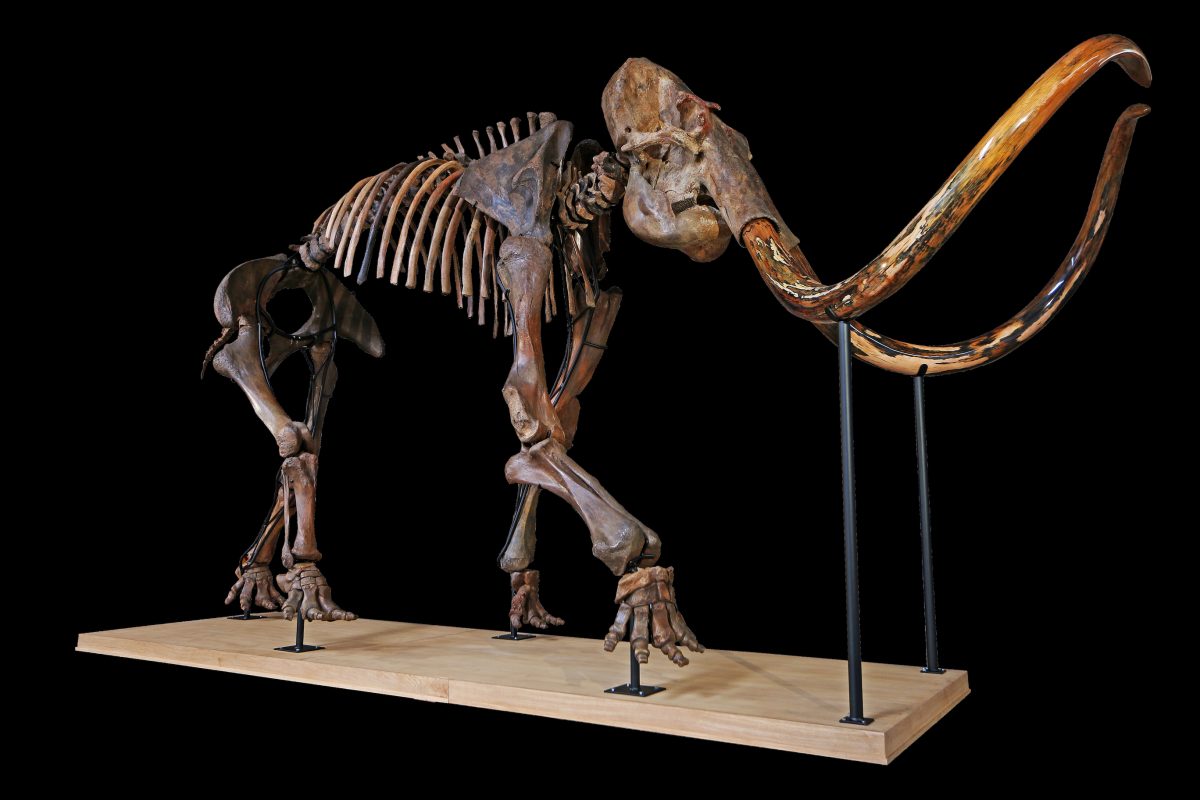 It is estimated to be worth between EUR 450,000 and EUR 490,000, justified by its exceptional size. The auction is expected not only to appeal to private collectors, but also for history museums, foundations and companies.
The woolly mammoth lived with both the Neanderthal man and the early Homo Sapiens during the Middle and Upper Paleolithic periods until its extinction around 12,000 years ago. It is the largest terrestrial mammal of all time and the most important specimen in the world in private hands. The mammoth has two impressive and gigantic tusks – 62 kg for 3.32 meters and 76 kg for 3 meters respectively – which magnifies the splendor of this specimen and representing a mythical species that marks our imagination and cinematographic culture.
The specimen is unique in the world by its size, and conservation remains eminently appreciable with more than 80% of its original bones and its extraordinary precious caramel and ivory hues mixed.
This remarkable mammoth specimen is also one of the few in the world that has all its authorizations to leave the Russian territory. It may therefore be valued, exported, resold and used publicly for commercial, advertising and other purposes.
Sales of this type of specimen are not common. The first full mammoth skeleton sold in public auction was in 2006 for EUR 150,000 by the Cave des Vignerons de Montfrin in the Gard region.
In 2007, Christie's Paris hosted a media sale devoted to natural history and that immediately triggered a debate between scientists, who want to keep a healthy controlled environment on the fossil market, and collectors of modern art, who began to take interest in the field, thus raising prices exponentially. That mammoth skeleton was sold for EUR 312,000 by a young contemporary art collector.
In addition, Damien Hirst's Golden Mammoth was sold for EUR 11 million at a charity sale in May 2014.