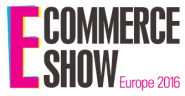 New ideas, new technologies for Europe's ecommerce partners.
The biggest brands in Europe are feeling the urgency to adapt their businesses to the best online format. Many are meeting and indeed surpassing the dynamic needs of their customers. The Ecommerce Show Europe is showcasing some of the best examples of this in May 2016, when we will be presenting fresh ideas and new ways of working.
Now in its third year, the show runs alongside our successful Home Delivery World Europe and Click & Collect Europe shows and tackles the biggest opportunities and challenges facing Europe's retailers. In 2016 we will be exploring the business impact of embracing the latest innovations in technology, data and analytics, as well as across social platforms and in omnichannel retailing.
The Ecommerce Show Europe 2016 is for businesses who are not content with playing catch-up but are committed to providing next level retail experiences. If this sounds like you, we look forward to seeing you there.