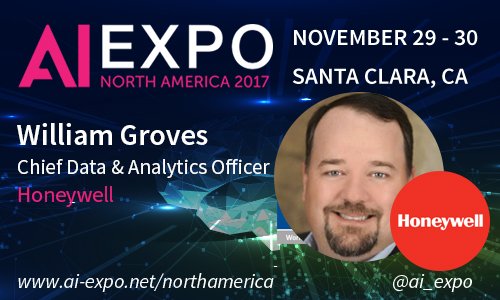 The AI Expo North America will be taking place on the 29-30th November 2017 at the Santa Clara Convention Center, CA in the heart of the Silicon Valley. The AI conference and exhibition will cover all industry verticals including Automotive, Finance, Healthcare, Government, Education, Consumer, Industrial and Enterprise sectors. The AI Expo will also be co-located with the world's largest IoT Tech Expo and Blockchain Expo giving attendees the opportunity to explore insightful content covering the whole ecosystem surrounding AI, IoT and Blockchain over the two days.
Over the two days, the AI Expo will bring together over 2,000 visitors including IT decision makers, developers & designers, heads of innovation, brand managers, data analysis's and scientists, start-ups and innovators, tech providers and venture capitalists.
The AI Expo will give attendees the chance to network, explore and discover the practical and successful implementation of AI to drive businesses forward in 2017 and beyond. Learn from industry leaders in the Artificial Intelligence field, covering topics such as Deep Learning, Machine Learning, Chatbots & Virtual Assistants, Big Data & Analytics, Algorithms and Business Intelligence.