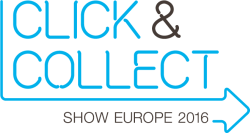 For Europe's B2C delivery & ecommerce community and their partners.
The establishment of the click & collect industry was much welcomed by customers who had long felt constrained by delivery times and occasional unreliability. However, the logistics of despatching frequent orders can be an expensive and overwhelming consideration for retailers. The Click & Collect Show Europe dissects the issues around this and provides real, applicable solutions and ideas by and for industry experts.
The event was launched in 2015, running alongside our successful Home Delivery World Europe Show and Ecommerce Show Europe. The three events together deliver a compelling proposition for Europe's retailers and etailers who seek to provide the very best in customer service.
In May 2016 we will be bringing Europe's click & collect community together and very much hope you will join us.