The JAPAN TECH, the first Japanese pavilion, will open in the 2018 Consumer Electronics Show (CES 2018) in Las Vegas, Nevada, from January 9th through the 12th, 2018, and support the exhibits of products from a total of 12 Japanese enterprises that have leading-edge technologies.
One of the World's largest technology trade fairs where leading-edge Japanese technologies and ideas will be gathered
Twelve Exhibitors including a winner of CES 2018 Innovation Awards will introduce their technologies in the JAPAN TECH
Held in Las Vegas, Nevada, USA, for four days from January 9th through the 12th, 2018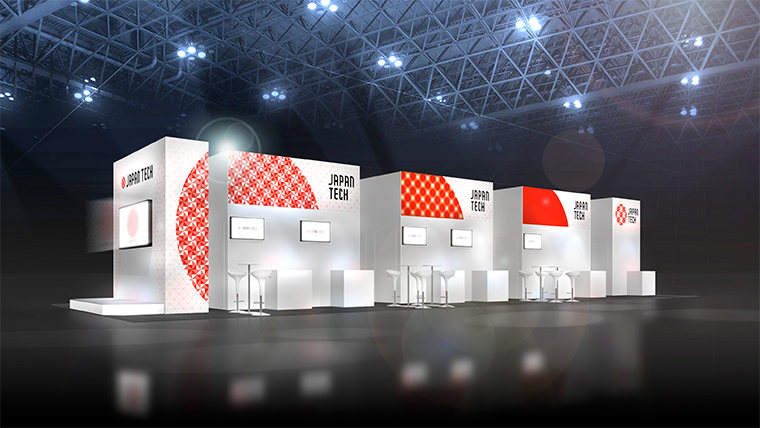 The 12 enterprises participating in CES 2018 include startup companies represented by DouZen (an honoree of CES 2018 Innovation Awards), Fujiiryoki Co., Ltd. (a company that is going to enter the U.S. market in full scale starting in 2018), Ezaki GLICO CO., LTD. (a company that developed the Japanese version of the Amazon Alexa Skills), PROGRESS TECHNOLOGIES, Inc. (a company that releases innovative e-books in Japan and the United States at the same time), Ricoh Co., Ltd. (a pioneer of 360° cameras for consumer use) and Makuake, Inc. (Japan's largest cloud funding company), all of which will showcase their own technologies and ideas.
JAPAN TECH exhibitors: Daiko & Yume Cloud, DouZen, EZAKI GLICO, Fujiiryoki, Scentee, Makuake, mui LAB, PROGRESS TECHNOLOGIES, Pyrenee, Ricoh, VAQSO, and YUKAI Engineering
The JAPAN TECH will offer not only enterprise exhibition support but also abundant opportunities to accelerate business matching, including business negotiations in the business lounge as well as receptions and meetups. During the event, the JAPAN TECH will exhibit in the Design & Source area, newly established next to the Las Vegas Convention Center, the main venue of CES 2018.
This project is organized jointly by Daiko Advertising Inc., one of the biggest advertising agencies in Japan, Creative Vision Inc., a CTA official sales representative, and Filament Inc., an open innovation consulting firm. These three companies have joined together to support Japanese firms that face tough hurdles for overseas expansion and also to conduct activities to disseminate Japan's advanced technologies to the world. The organizers will continue working on the development and promotion of the future of Japanese technologies through the JAPAN TECH to support better quality of life with technologies and innovative ideas.