The Only 100% Insurer And OEM-Led Auto Telematics Conference Designed To Improve Risk Selection, Claims Handling And Policy Writing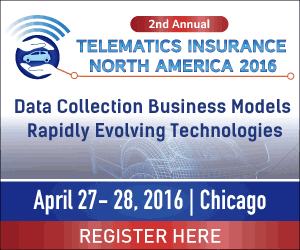 The 2nd Annual Telematics Insurance North America 2016 has been fully re-engineered after extensive research and conversations with every insurance carrier in North America, to bring a rigorous and up-to-the-minute agenda focusing on the changes that will impact auto insurance business models as telematics technologies evolve and autonomous vehicles penetrate the market.
And for the very first time, a brand new $27 billion market will be looked at, with dedicated case studies focusing on how insurance companies can capitalize on opportunities in the commercial vehicles sector.
OVER 18 INSURANCE CARRIER & OEM LED CASE STUDIES FROM
Commissioner Mike Kreidler, Washington State Insurance Commissioner
Christopher Ziance, Assistant General Counsel, Progressive Insurance
Rishi Arora, Product Development Manager, Progressive Insurance
Jacob E. Rothfuss, Head of Commercial Automobile, Farmers Insurance Group
Neal Silbert, Predictive Analytics and Risk Insights Executive Commercial Insurance, Zurich Insurance
Paul Farrell, Senior Technical Consultant, Nationwide Insurance
Andre Barrow, Business Development Officer, Sagicor General Insurance
Maureen Brown, Underwriting and Operations Lead, Munich Re
Brian Fields, Innovation Analyst, State Farm Insurance
Julie Sealey, Lead Loss Control Manager, Samsung Fire & Marine Insurance
Bob Gruszczynski, OBD Communication Expert, Volkswagen Group of America
Allen Greenberg, Policy Analyst, U.S. DOT
Nino Tarantino, Chief Executive Officer, Octo Telematics North America
Linda Senigaglia, Enterprise Account Executive, Danlaw
Ben Miners, Vice President, Innovation, IMS
Deke Phillips, Principal Consultant, DriveFactor
Chris Carver, President, ATG Risk Solutions
KEY LEARNING TAKEAWAYS DISCUSSED:
Evolving Business Models For Developing Technologies
Learn how to apply the latest smartphone and in-vehicle technologies to develop processes for improving risk analysis
Mobile Telematics
Discover the optimal approach for delivering consumer collected telematics data and learn how to lower data gathering costs as OBD-II matures
What is the most predictive telematic variable?
Develop a consistent methodology for cost effectively evaluating telematics data in relation to losses
>Speed > Harsh Acceleration > Hard Braking? > Harsh Cornering > Location >Time Of Day
Data Ownership & Security
Learn what needs to be done to encourage data sharing between insurers, OEMs, third-party aggregators and consumers while eliminating privacy concerns
Autonomous Vehicles
Forecasting the impact of driverless cars on telematics insurance products, claims handling and profitability
Dongles Vs Smartphones Vs Embedded Devices
Which options deliver the highest return on equity for the insurer without compromising data quality?